7-24 Otecho, Ibaraki-shi,
Osaka-fu 567-0883,
Japan
TEL&FAX 072-624-0146

---
Coronavirus (COVID-19) As a countermeasure
 Request to customers visiting our store

■it is currently open for reservation in advance.50 minutes per frame.
 Those who have not made advance reservations cannot enter the store.
 Only two people can enter the store at the same time.
■Wearing a mask
■Hand disinfection
■Toilet is not available for hygiene reasons.
 I'm sorry, but please cooperate.
The following customers cannot enter the store.
■Those who do not make advance reservations.
■Those who have traveled abroad within two weeks. Persons who have come to Japan from abroad within 2 weeks.
■Those with a fever of 37.5 degrees or more, a cold, and poor physical condition

Description of the ONLINE SHOP
■Sorry,Online shop language is Japanese only
■Shipping only within Japan
Nobori Hamonoten English guide (
access)
Thank you for visiting my homepage.
I can only speak Japanese.
That's why I'm writing using Google Translate.
I'm sorry if it's hard to read.

Nobori Hamonoten
Address:
7-24 Otecho, Ibaraki-shi, Osaka-fu 567-0883, Japan
TEL/FAX 072-624-0146

Closed:
 Wednesday, Thursday ,japanese holiday ,national holiday
 * Other irregular holidays may occur.
 Summer vacation & New Year holidays

Open:
 9:00 ~ 18:00
 10:00 ~ 17:00 (Saturday, Sunday)
---
Transportation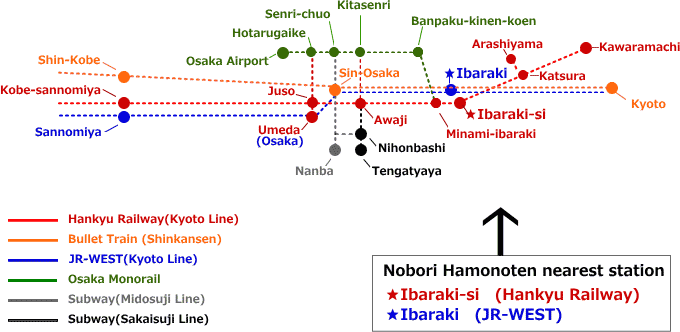 ---
Nearest station
★Hankyu Railway Kyoto Line 「Ibaraki-shi」
Approx.8minetes on foot




---
★JR-West Railway Kyoto Line 「Ibaraki」
 Approx.10minetes on foot













Nobori Hamonoten TOP (Nobori Carpentry Tools Shop)