7-24 Otecho, Ibaraki-shi,
Osaka-fu 567-0883,
Japan
TEL&FAX 072-624-0146
---
Nobori Hamonoten English guide (
access)
Thank you for seeing my home page.
I'm sorry.I'm not good at English.
but Several words are understood.
It's mailed in easy English.Question from an e-mail, please.
The shipping off to an oversea is also possible.
(It isn't everything.)
Shipping off is EMS.
Payment is charged in PAYPAL.

←

In stock

  ←

No stock


Stock is just an example.There is a case there is no stock.

Nobori Hamonoten

Address:
7-24 Otecho, Ibaraki-shi, Osaka-fu 567-0883, Japan
TEL/FAX 072-624-0146

Closed:
Wednesday
New Year's Holiday
Additionally it's irregular.

Open:
9:00 ~ 20:00
10:00 ~ 17:00 (Saturday, Sunday, holiday and national holiday)
---
Transportation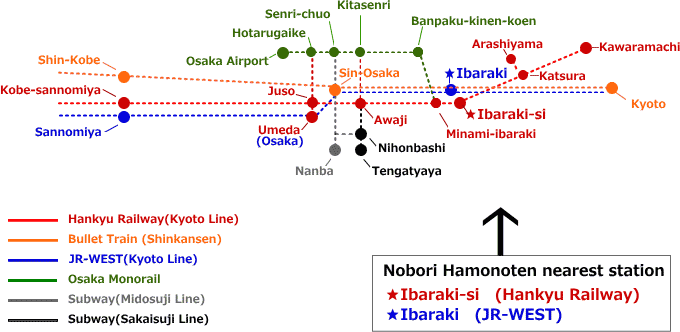 ---
Nearest station
★Hankyu Railway Kyoto Line 「Ibaraki-shi」
Approx.8minetes on foot




---
★JR-West Railway Kyoto Line 「Ibaraki」
 Approx.10minetes on foot













Nobori Hamonoten TOP (Nobori Carpentry Tools Shop)